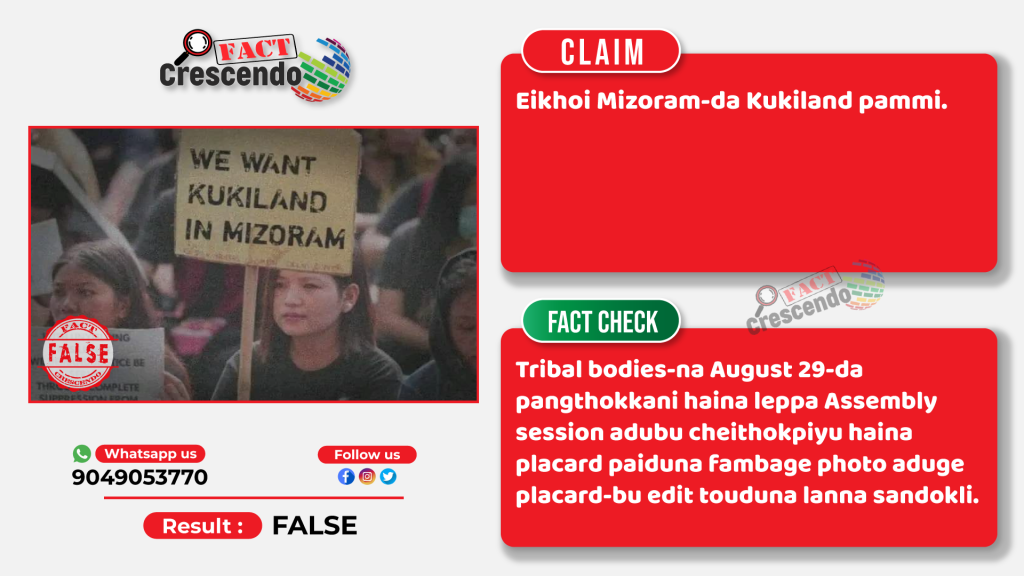 Handak chahi-ge May thage tarilk ahum dage houkhiba hingsha adu nemthaba leitri. Tha manga fajanlaklaba ehou ashige waroishin meepum pumnamakna ngairi.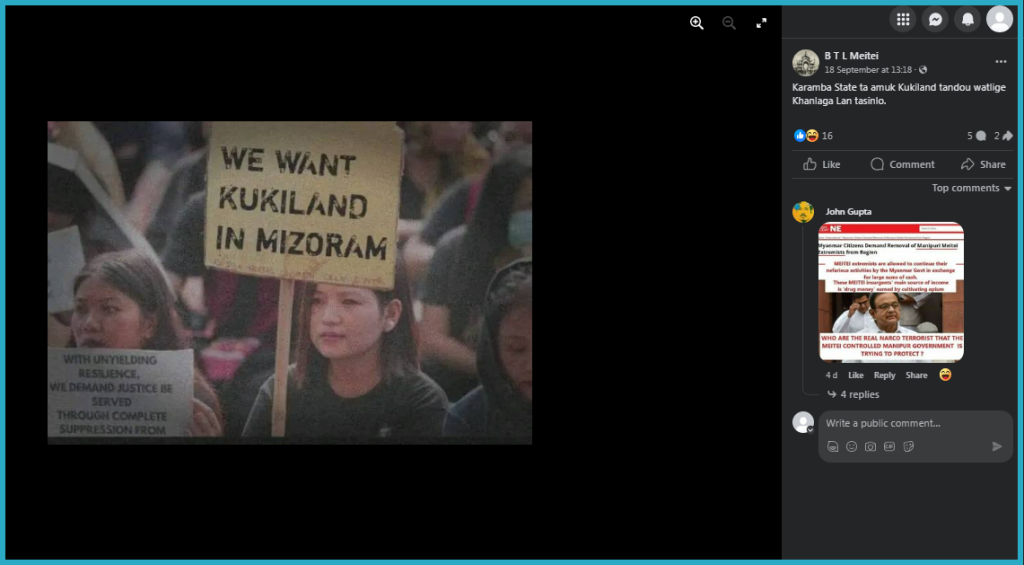 Claim:
2023, September tarik 18 da Kangla Pao FB Entertainment haiba Facebook page ama image amabu edit touduna nungge artha honghanduna thagatpa thengnei. Post aduge caption-da ashumna eeri "Karamba State ta amuk Kukiland tandou watlige Khanlaga Lan tasinlo.". Post aduda thagatliba image aduda placard paiduna famliba nupi aduge play card aduda ashumna eeri " Eikhoi Mizoram-da Kukiland pammi".
Fact Check:
Fact Crescendo-ge team-na tasengnamak achumbara khangdoknanabage-damak Google search ta Reverse image search pangthokpa matamdadi hairiba photo adu The New Indian Express-ge 2023, August tha-ge tarik 27-ta fongba chefong amada thengnei. Chefong aduna hapliba photo aduda uriba nupi aduna pairiba placard tudadi ashumna eerammi " Kuki furup-pu hatpa leppu, All India Tribal Women Delhi & NCR". 
Read full article here – TNIE | Archived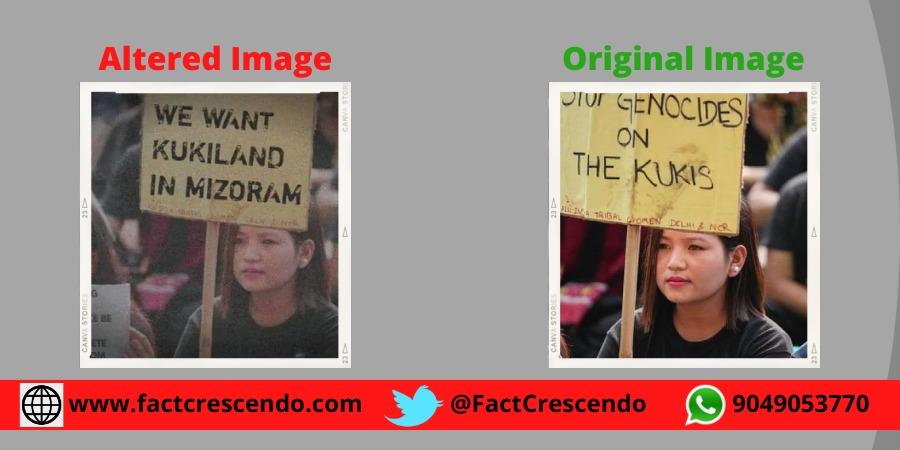 Hairiba photo anige khetnaba du mathakta piri. Phongkhiba chefong adu mari suba assembly session adubu yeithoknabagedamk tribal body ming oena panlabada Committee on Tribal Unity amadi the Indigenous Tribal Leaders' Forum-na thamkhiba wafamni.
Conclusion:
Fact Crescendo-na photo anidubu khudam changdamnaraba matung, facebook-ta thagatliba image adu edit touraba image-ni haiba ngamle. Tasengnamak erang ashige waroishin leitrifaobadi furup animakki thamoi shokpa yaba aranba pao ashi sandoktabana erang ashige waroishin youraknaba hotnabada mateng-panggani thajei.

Title:Mizoram-da eikhoi Kukiland tanli?
Written By: FC Manipur
Result: False